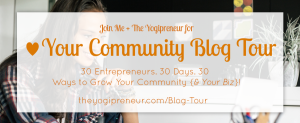 Have you been following The Yogipreneuer Community Blog Tour? Fun, right?!
It is my first official Blog Tour and I am pumped to be on board because we are talking about a very fun topic – Community building.
Big thanks to Racheal for organizing this tour and having me share the stage with the amazing talent on this tour! (I've been catching up on my Nashville watching lately so I'm all about going on tour!)Yesterday Amy was chatting it up about how she loves up her community by showing them the path to bliss. Check it out here: http://t.co/F6EnrLjoap.  We are in for a treat tomorrow too – Cerries Mooney of from The Brand Alchemist is up next!
Today, we are pulling back the curtain on how I made the shift from feeling like a used car salesman to having fun with community building. This shift helped me grow the a NiceOps Community more than 10x in under a year. Yeah, baby! It is fun to collaborate with a community of CEOs that are committed to doing business better than usual. You in?
Community Building Mindset
A year and a half ago, I was stuck in a funk telling myself I was a terrible marketer when I was doing it for myself. I had no problem marketing and promoting other businesses products and services, but my own??
I felt like a used car salesman when I marketed my own products and services.
It is odd that this felt off to me because I have a secret desire to try my chops at selling cars someday. No joke! I think it would be a fascinating, challenge for me. I also think I could learn a lot from car salesmen, but the mind is a funny thing.
Do you know the feeling?
Maybe you don't feel like a used car salesman, but you hold a different belief that keeps you from sharing your gifts with the people who need and want what you are dishing out. For example, another limiting belief would be, if I am successful in my marketing efforts how will I deliver on what I promise? …Nobody is interested in what I have to say. …. I am a fraud – They will find me out if I put myself out there and engage.
If you are slowing down your own community building efforts because of a story like this, it is time to turn it around!! We can team up to shift your story here in the comments.
When I changed up my used car salesman story, everything changed. Instead of my limiting I am a used car salesman story, I started telling myself a true story:
I am a small business and entrepreneurial consultant who partners with business owners so that can build a successful, results oriented, and more profitable business.
Two things happened when I did this:
I owned my role of business partner to CEOs of growing businesses and stepped into a great leadership role for my clients and in my business.
I started focusing on the results of my community.
Did you hear that?
The focus shifted from "my" business to "your" business.
That gets me excited and that is when I started having fun and getting results with community building.
Where does your mindset need a tune-up? 
Fun with Community Building
They key to long lasting community building efforts that you can keep up with when you are first ramping up is finding a vehicle you enjoy (e.g. Writing blogs, podcasting creating videos, etc.). For me, the key is in the variety. I'd lose my marbles if I just wrote every week. I love it, but every week would bore me to tears. A video every week might be more doable, but eh I don't see myself as strictly a video marketer right now. I also LOVE mixing in exclusive challenges and camps that let me get up close and personal with people who are interested in a targeted topic.
For example, last summer, NiceOps hosted Clone Camp. The whole family helped me plan for camp. We designed the camp map together – Profitability Pool, Efficiency Forrest, etc. CEOs who came to camp got results and changed the game in their business.  Yes, they got results even though I heard there was some sneaking out to go skinny dipping in Moola Lake after I called for lights out!
We mixed fun and business to drive results in Clone Camp.
Check out this Clone Camp orientation video to see what it was all about and how we got down with the theme:
The whole community of CEO campers was entertained and engaged in the process.
When you engage people, they become more committed to your community and they get higher results than they would as passive participants.
What do you enjoy doing?
How can you turn your most loved activities into an opportunity to engage your community?
Taking Community Building Offline
In addition to flat out having more fun with a community, I love to take the online relationships offline.
Intimacy is a core value of NiceOps' so we are always looking for opportunity to engage more personally with highly engaged members of the Nice Community.
NiceOps has led book clubs and given away the book as a gift to everyone in the club. We send monthly Nice Swag in our Freshly Implemented program. At the end of last year, we ran a Naughty or Nice challenge and encouraged all participants to share how they were going to Get Nice Listed in 2014.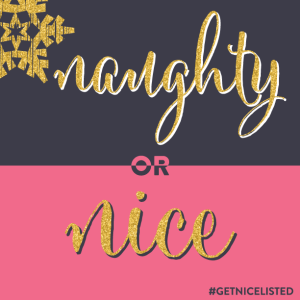 The first 50 people who shared their game plan on how they would #getnicelisted received a gift, which we physically mailed to their home address.  Sweet! Everyone who played along got digital swag.
The feedback we received from people who received their actual swag in the mail was amazing and it fueled our passion for connecting personally with our audience.
What values are core to your business (e.g. Intimacy, approachability, zen)?
How can you take those values, bring them to life, and change the game in your marketing efforts?
Connect & Collaborate
Hit me up in the comments if you want to turnaround your community building mindset, brainstorm a fresh idea to engage your community, to chat it up around how to bring your personal values into play in your business more!
Community building happens one conversation, one interaction at a time!
See you tomorrow at the next stop on the tour!