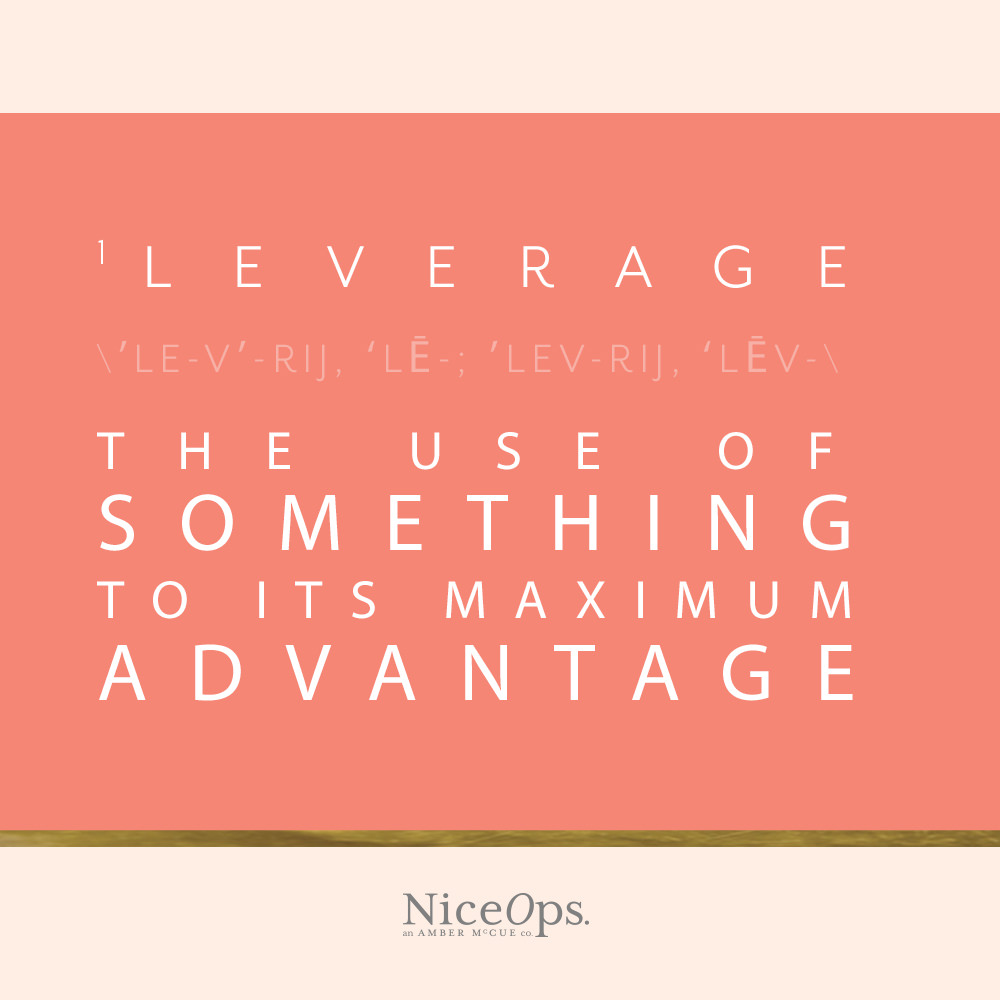 The most applicable definition of leverage for the way we are talking about it here is:
the use of something to its maximum advantage.
Leverage sounds like a fancy schmancy business term.  This one, fancy little term can easily be understood and put to work for you in your business through a simple analogy involving your makeup bag.  This one word – leverage – will help you better budget and decide how to set up budgets and build your team in your business.
Leverage in Everyday Life
We have all had to use leverage at some point in our lives. Like when you were a teenager and were given a limited school shopping budget – How were you best going to spend that budget to ensure you got everything you needed and wanted? Or even today as you manage a household budget – Do you have a big house and a larger mortgage or a smaller house and pay just a little rent so you have funds to travel on a whim?
When you make decisions about how you spend your money, you are determining how to best leverage your money to your advantage.
I recently noticed I was putting leverage to work for me in my makeup bag.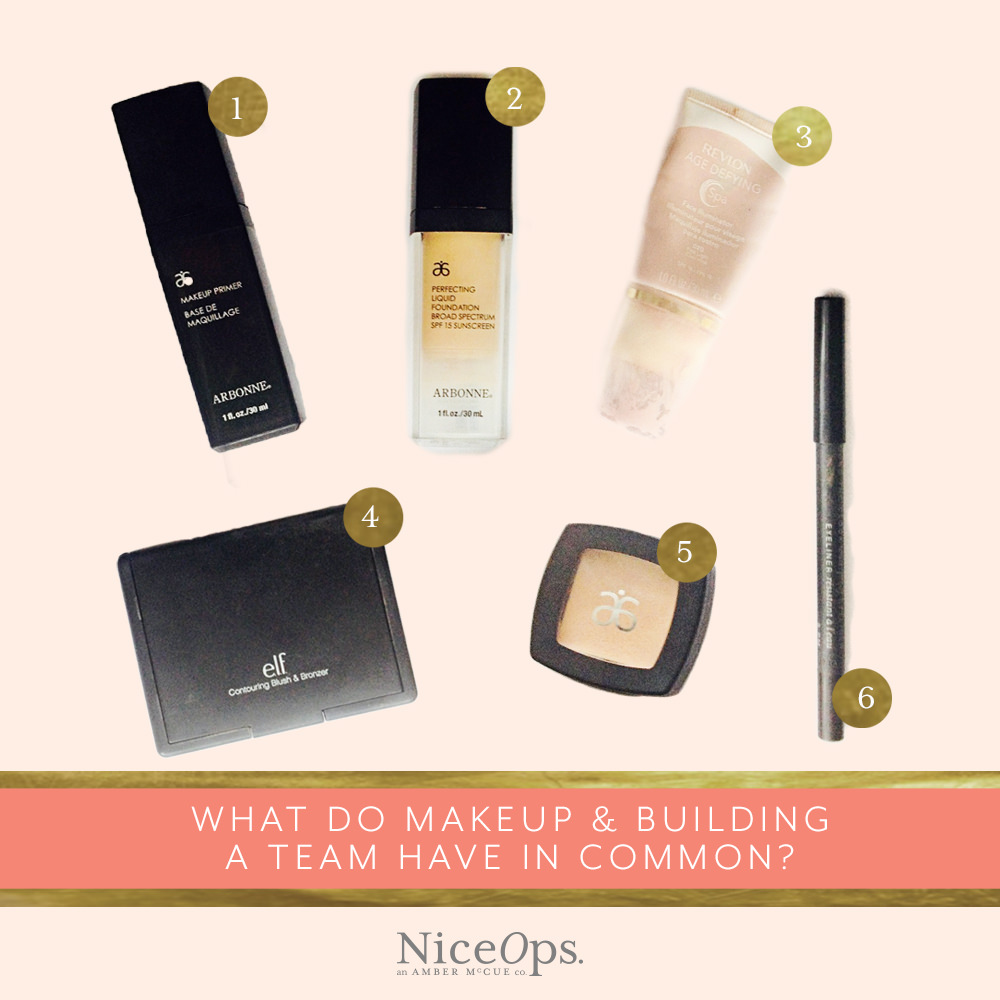 What's in the Makeup Bag?
1. Primer – $30/3 months
2. Foundation – $30/3 months
3. Liquid Highlighter/Illuminator – $7/6 months
4. Elf Blush – $3/3 months
5. Concealer – $16/3 months
6. Eye Liner – $18/3 months
*  Fake Lashes – $4/month (Not pictured, time to shop!)
*  Lips – $12/3 months (Not pictured, time to shop!)
Leverage in the Makeup Bag
Let's say I have $100 a quarter. $400 a year. Or approximately $33 per month I have set aside per month to spend on makeup.  With the estimates outlined above, I'm actually just over $5 per month OVER budget.  So I have some decisions to make if I stick with the $100 a quarter budget.
There are something's in my makeup bag I may pay more for and some I may pay less for depending on how much of a priority they are to me based on my needs and wants.
For example, my Arbonne primer is amazing! Fills in my smile lines, smoothes out my skin tones. It has become a priority item for me.  I also get a discount on this item because I am a preferred Arbonne shopper.
Same with the Arbonne foundation.  If I am spreading something all over my face like this I want it to be natural. This is vegan, high quality stuff, and feels good going on.  Again, I get a discount here.
My blush + bronzer combo – $3 dollars – can you believe it!? It is Elf brand from Target. Not all elf products make my list, but I found this one via a magazine review and it is a winner! $3 dollars and it looks like it is also going to last me about 3 months.
The liquid highlighter, or Revlon illuminator, is another item I won't go without. It gives me the glow some people get naturally while preggo. 🙂
Nothing extra special about my eyeliner.  I just like how easily it glides on.  Bare Minerals for the win.  HOWEVER, it is a little pricey and it isn't a big priority, or a must have or want for me.  This is an area I would cut back first if I ever reset my budget, income went down and I need to scale back, or I found something I wanted or needed more.
Fake lashes. The extensions.  Yes. This one might actually cost more than mascara, but it reduces smeared makeup, saves me time on makeup removal, and I wake up feeling great!
Lips. Time to shop!! Or not based on my budget… Have any good recommendations within my budget?
Decision Time
Based on what I've outlined above, I'm actually not going to make any changes to my spending plan at this time even though I'm OVER budget.
I kept an eye on how long most things last me so I know those calculations are right, but I think the eye liner may last me a bit longer and the lip products might as well.
I will reassess my makeup budget in 3 months, reset on my priorities, and decide if I need to budget more in this area (and less in other areas) or make some decisions around where to spend less so I can keep my make up budget as-is long term.
NOTE:: I don't necessarily follow recommended guidelines related to how long one should keep makeup and I am not making any recommendations on makeup shelf life now or ever.
Leverage in the Business
So do you see how I spend more ($30 for primer) or less ($3 for bronzer) or less on some things depending on their priority to me or their effectiveness?
There is very well a bronzer out there that costs much more that I would absolutely love, but I have a bronzer that I'm loving right now so I'm going to stick with.  Because I spend less on bronzer, I have the freedom to spend more on something that is a high priority for me or something I need (foundation).
The exact methodology applies to building your team. There are a few other variables you might want to consider.  For example, if you really hate doing something or aren't very good at something, those might be areas to consider outsourcing to your team first.  If it is something you need done quickly, you might spend more to get it rushed.  You may also decide to spend less in areas that are low priority or that you know you can train someone up on.  This gives you flexibility to spend more in areas of priority.
I want to know in the comments, how can you apply this whole concept of leverage in your business?  Or maybe you already are applying this concept in your business today — Share your lessons learned in the comments!!
Side Notes 
You may see other ways that makeup bag contents and building a team have in common.  When I openly gave my mastermind group a preview of the blog post "What do Makeup & Building a Team have in Common?" they replied with some good stuff like:
Every team member has a strength – Use it!
Each item in the bag and each team member has a purpose.
Gotta have that polished foundation – I do love solid business foundations and operations – or your makeups going to get runny!
Great analogy – because just because that foundation or mascara looks good on your friend, it could be all wrong on you. LOL.
They are totally right!!
Who would have thought there were so many business team building lessons to be found in a makeup bag?
Can't wait to hear your take in the comments!
If you are wondering what to outsource first or what to systematize, be sure to get on the Nice List just below to scoop up your complimentary Get Efficient Prioritization Workshop!