Today I'm part of the BossLady blog tour organized by Kimberly Riggins to promote the brand new The Bead Effect movement.  It brings together 12 BossLadies over 12 days to share their thoughts and views on what it really means to be a BossLady.
I'm the last person on tour so if you missed the other posts from some of my favorite CEOs, you can check them all out here.
Since it's the last post on the blog tour, I talked Kimberly into doing a giveaway with me too. Read to the end to get the scoop and win!
I can cast a stone across the waters to create many ripples. – Mother Theresa
::::::::::::::::::::::::::::::::::::::::::::::::::::::::::::::::::::::
If you've hung around NiceOps at all, you know that leadership is a big part of what we do. As business owners, as BossLadies, it's really easy to dismiss the idea of being a leader, a boss or a CEO quickly.
Instead of owning it…We make excuses. We tell ourselves many, many reasons why we're not the CEO. Mostly because the idea of being "in charge" is scary as hell.
A lot of my clients come from a corporate background and being the boss or a leader is one of the big reasons they left. From bad bosses to nightmare employees, they left that world to build something different where they never ever had to deal with that drama again.
I've got news for you BossLady.
If you're in business, you're the boss. Deny it all you want but that's the truth. You've got a choice – you can continue to fight it or you can step into your role as a leader with grace and ease.
If you choose not to own this, you'll find yourself in the role of victim as your business grows and that's not a pretty place to be.
Being a Leader On Your Terms
Whatever you call it BossLady, leader or Ms. CEO, this business is your baby and you can run it however you choose.  It's time to rethink what you know about leadership and being a boss and do it on your terms.
A few things you get to decide this time around as the BossLady:
When you work and how much you work.
What product or services your business offers.
If you're a solo show, small team or growing an empire.
How you manage and treat your employees.
Who you partner with.
When you go on vacation.
Where you spend your money.
How much you money make.
And, one of my favorite things, how you love up your clients.
Stop for a second and read that list again.
Amazing!
Really now, why wouldn't you want to be the boss? It's all kinds of awesome! Stop fighting so hard against what you already know. It's up to you to OWN being the BossLady.
Here's a few ways to start embracing your role as a leader starting now:
Book a CEO date with yourself to reflect and get clear on your vision.
Get your plan on (because businesses with revenue plans grow 60% faster than those that don't)
Map out your 90-day plan for success.
Implement a stretch goal for the end of the year or decide you're going to let it all ride until January. You choose.
Check-in with your team (if you have one) and see how things are going. Get their feedback.
Delegate something new today.  Yes, TODAY.
Once you get going with that, make a commitment to embracing a new style of leadership for the modern CEO.
This isn't the dudes – or dudettes – in blue suits who are tucked away in the corner office. It's a bold new world where corporate rules don't apply. No pantyhose, no pointless meetings and most of all, you run the show your way.
Make 2015 the year you fully become a BossLady because being the boss is the best way to get you where you want to go. Being a BossLady isn't always easy, but I promise you, it's oh-so worth it.
Want more BossLady goodness?
Check out yesterday's post from Shannon Caldwell.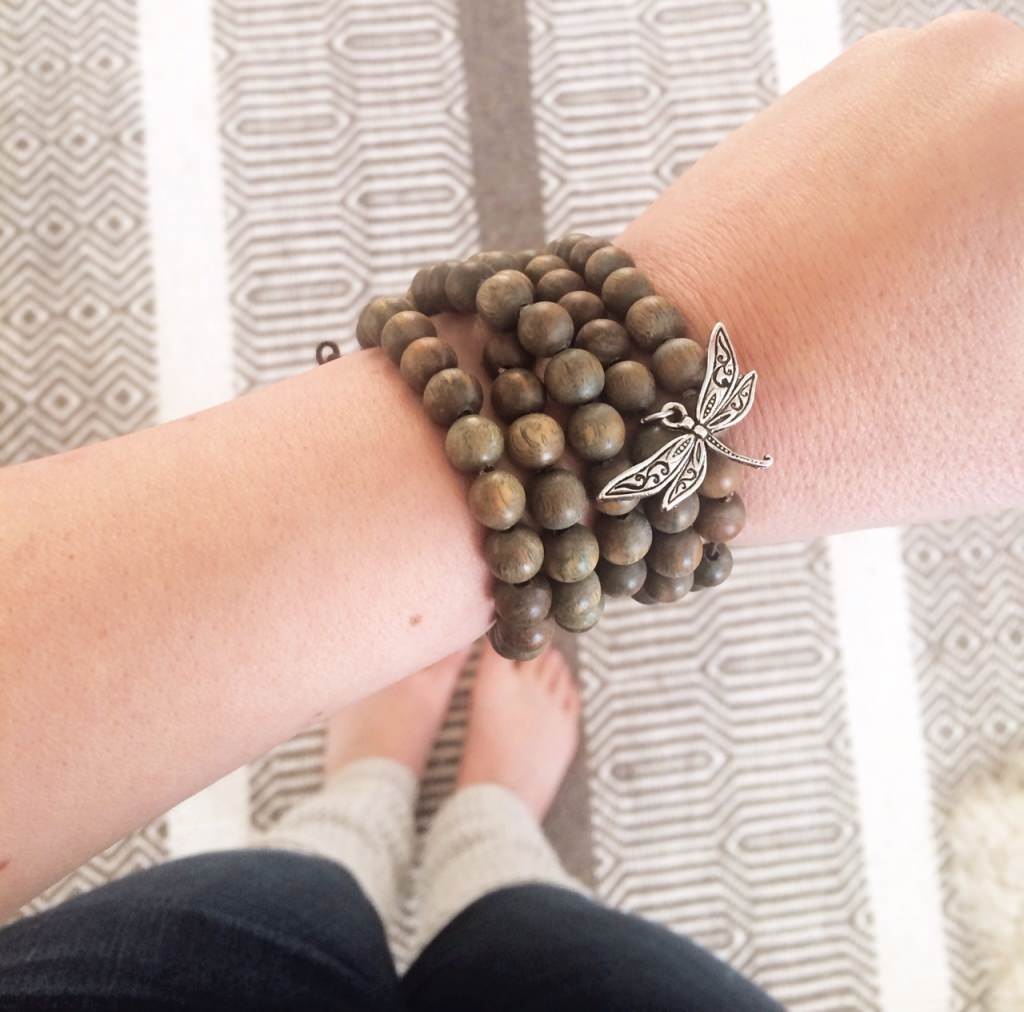 WIN AT BEING A BOSSLADY & JOIN THE BEAD EFFECT! 
We are giving away one set of mala beads from The Bead Effect movement. I was gifted the dragonfly, which represents:
Change | Grace | Strength | Power
To be entered to win, just post your BossLady tip on your favorite social media platform and tag me @ambermccue and @kimberlyriggins with the hastag #thebeadeffect.
We'll give the winner, by random drawing, a set of mala beads with a story to match your BossLady style.
Easy breezy!! I can't wait to see your tips!!