The 2017-2018 planner season is upon us!!! Good thing, because it is about this time every year that I beat up my original 2017 planner so much that I need a new one anyway.
What can I say, my planner and I spend a lot of time together…
It is also true that I love a Fresh Start.  This little review I'm doing for you provided me with a perfect excuse to go planner shopping crazy!
So thank you very much. 😉
In deciding what planners to review, I selected based pure curiosity and off of my wish list. Selfish, I know! But come on. Can you blame me?
I also balanced this by grabbing a couple of planners that I've heard a lot about and didn't ever think I'd buy – like the Daily Greatness Business Planner. I also wanted to get some variety – Variety of design, structure, purpose, etc.
1. THE DAY DREAMER by THIMBLEPRESS.COM
The best planner if you want space and room for notes and you like quirky inspiration.
I was introduced to the fabulous Kristen Ley, who owns Thimblepress, at Katie Hunt's Paper Camp event this summer.  Kristen's sense of humor and kind soul are a breath of fresh air.  Needless to say, when I saw she had a day planner as a part of her collection of goods, I knew I had to add this baby to my list.
Woven between planning pages are words of encouragement – Inspire others… Great things take time…. The sweet motivations messages throughout the day planner/journal are icing on the cake. What really makes me love this baby, are the large pages for me to take lots of notes throughout my days. I like to have my notes and to-do lists all in one place.  Not to mention, the pages don't come with specific dates.  This turns out to be a good thing for me right now because I don't make plans every day and too many pages in my date specific planners are going to waste.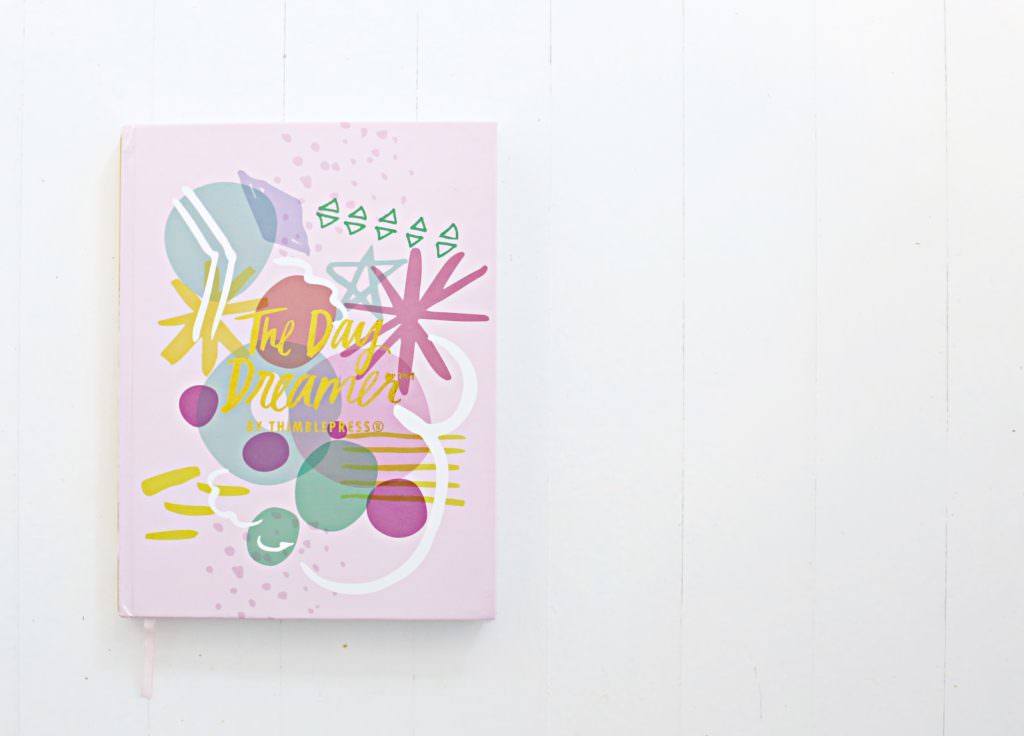 If you want uplifting design, lots of space, and a little bit of whimsy, this is a great planner for you!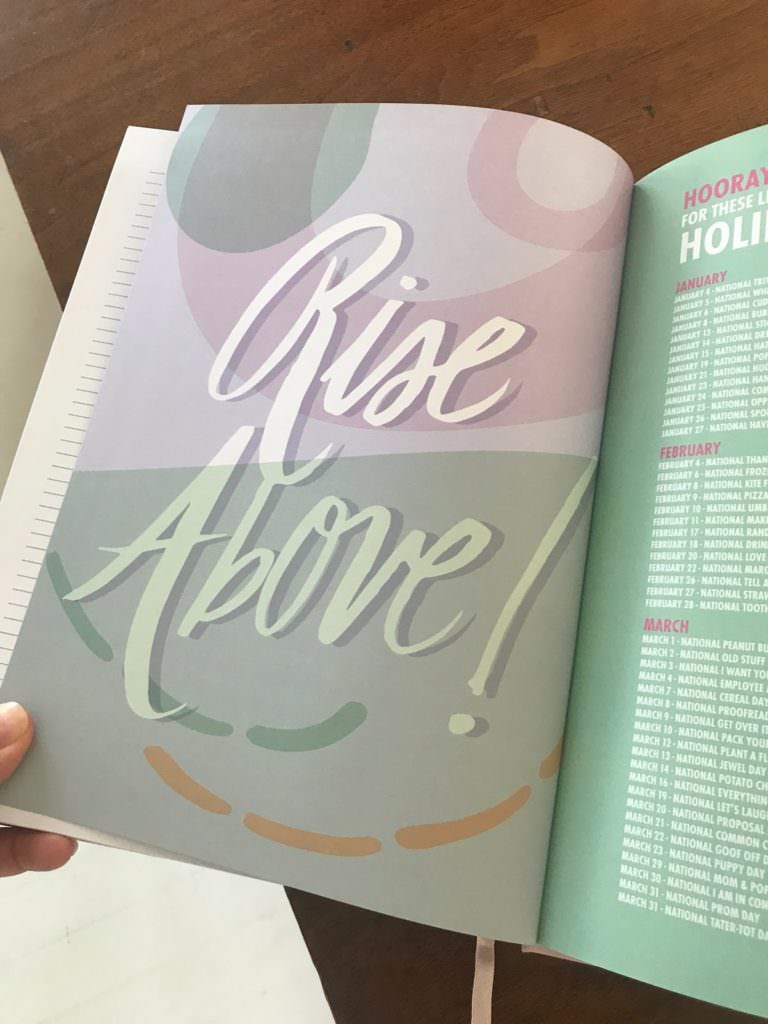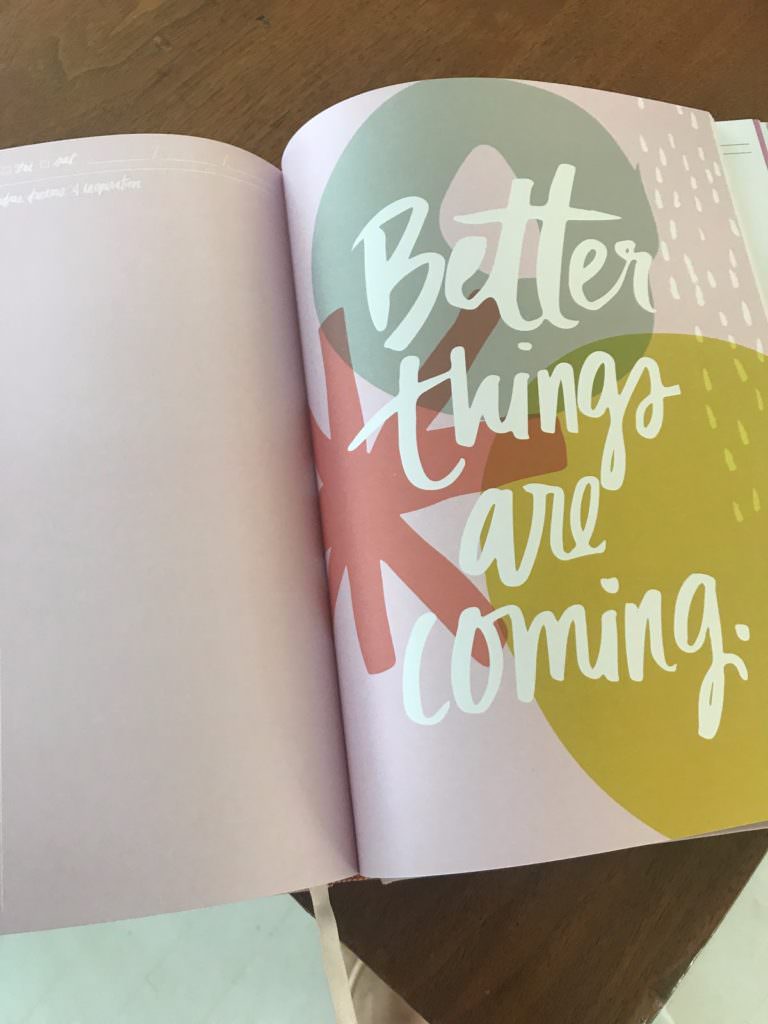 I should also note it's a BIG planner.  Not thick, but tall and spacious.  I won't be traveling with this baby… It's staying on my desk as a desk planner.  I now pop my post it notes into the pages of this planner and my desk looks cleaner than ever too.
2. DAILY GREATNESS BUSINESS PLANNER by DAILYGREATNESS.COM
The best planner for the smart business owner who wants to stay on track toward their big picture goals.
The Daily Greatness Business Planner was my #2 pick this year! Lots of room to reflect, plan, and space to update as you implement.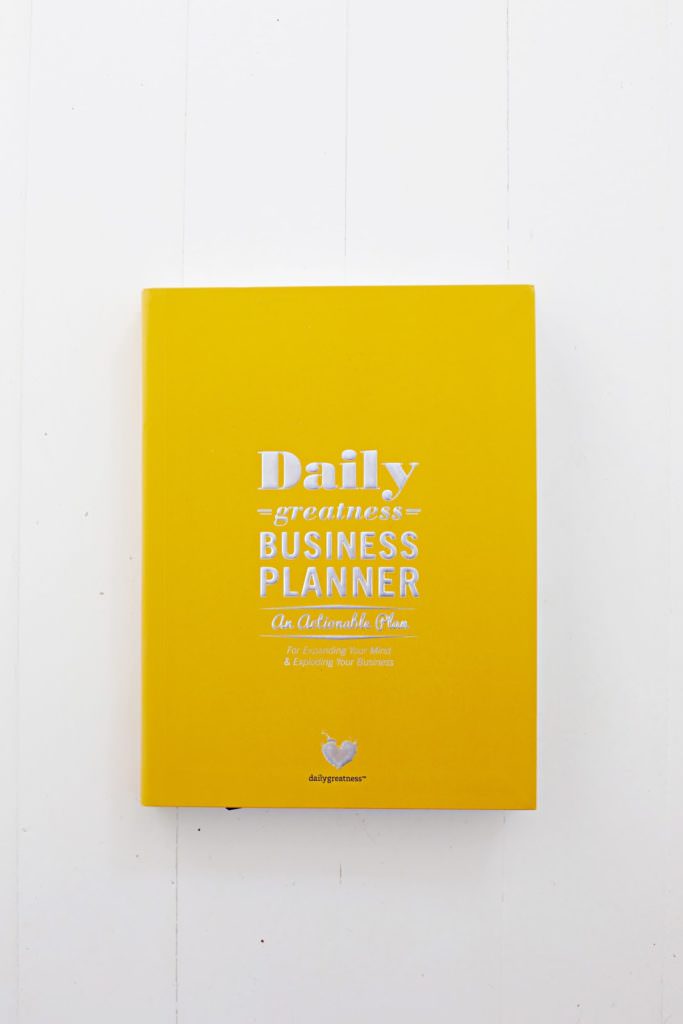 What really gets me excited about this one are the ever changing, weekly reflective questions.
Reflection is so important, but sometimes I need prompts. We offer a lot of prompts in our FreshStartWorkbook.com for annual planning and reflection – I go through these questions 2x per year, if not more. Weekly prompts that keep you on track with your life and business goals, your happiness levels, and so much more? Swoon!! I think this is just what the doctor ordered for anyone who needs prompts to stop, smell the roses, and reflect.
It's equally good for business planning as it is for making sure your business goals match up with your life dreams.  There are pages to check in on your financial plans throughout the year, pages to prioritize, etc.  It's a winner.
Full disclosure: I didn't ultimately keep this planner, but I gave it to my business partner, Joanna Tiger, over at Three Boudoir to use and she's loving it!!  In fact everyone I have bumped into who knows about the Daily Greatness planner line has said great things.  I have clients who have used the fitness version and the yoga journal too and they love it.
Icing on the cake, in a recent virtual retreat I hosted for my clients I found out one of my favorite people designed this page.  Way to go, Elle. It's a beauty.
Two thumbs up for this baby!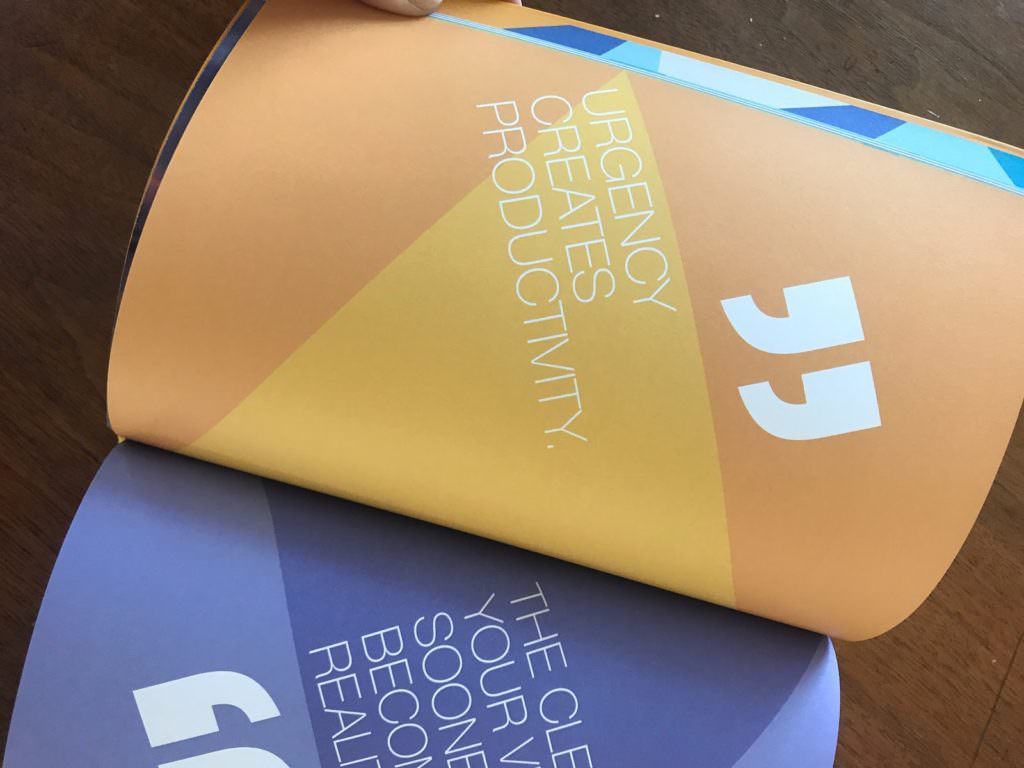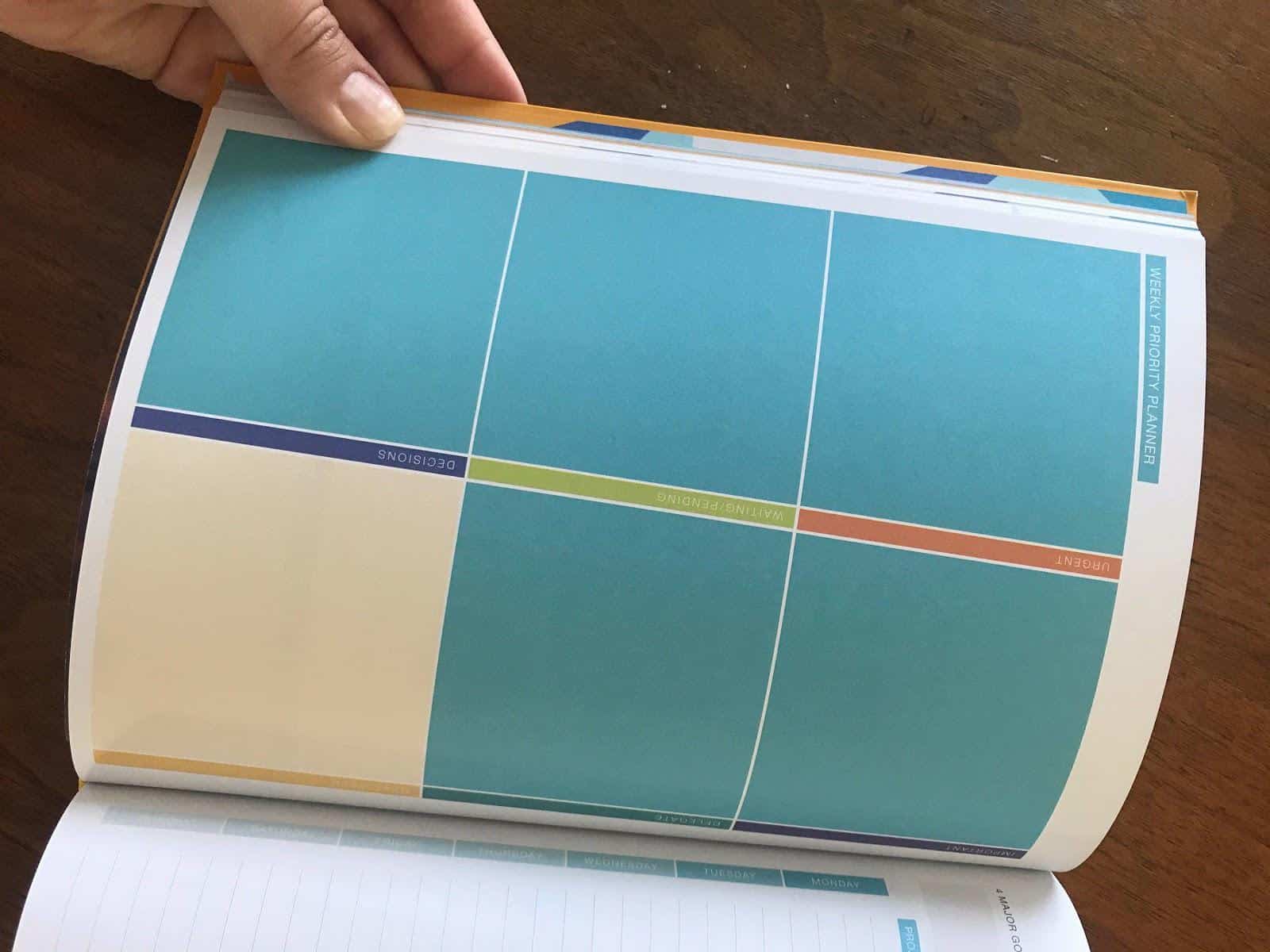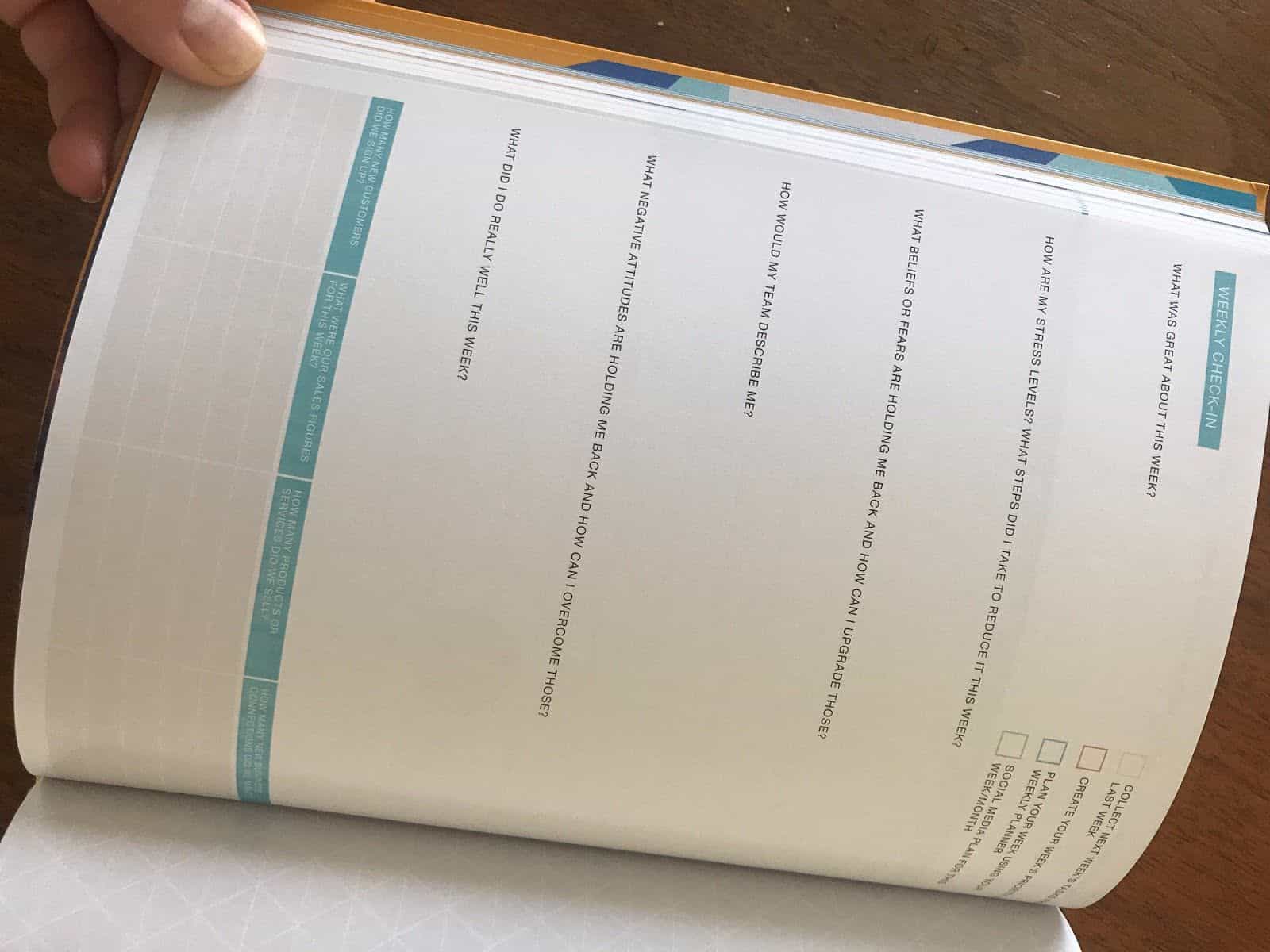 3. THE HAPPINESS PLANNER by THEHAPPINESSPLANNER.COM from ANTHROPOLOGIE
The best planner for joy seekers.
Anything happiness related is an instant winner for me! And the bright, cheery colors this one comes in are an instant mood booster!
You know, since the focus of this planner, is happiness, there are prompts to keep your happiness levels moving on up!
I really like the gratitude, mindfulness, and joy prompts in this planner – like what are you excited about today and weekly reflection prompts like what were the highs and what were the lows of the week.  It reminds me of the game high/low we play at dinner – We go around the table and everyone has to say their highs and lows from the day.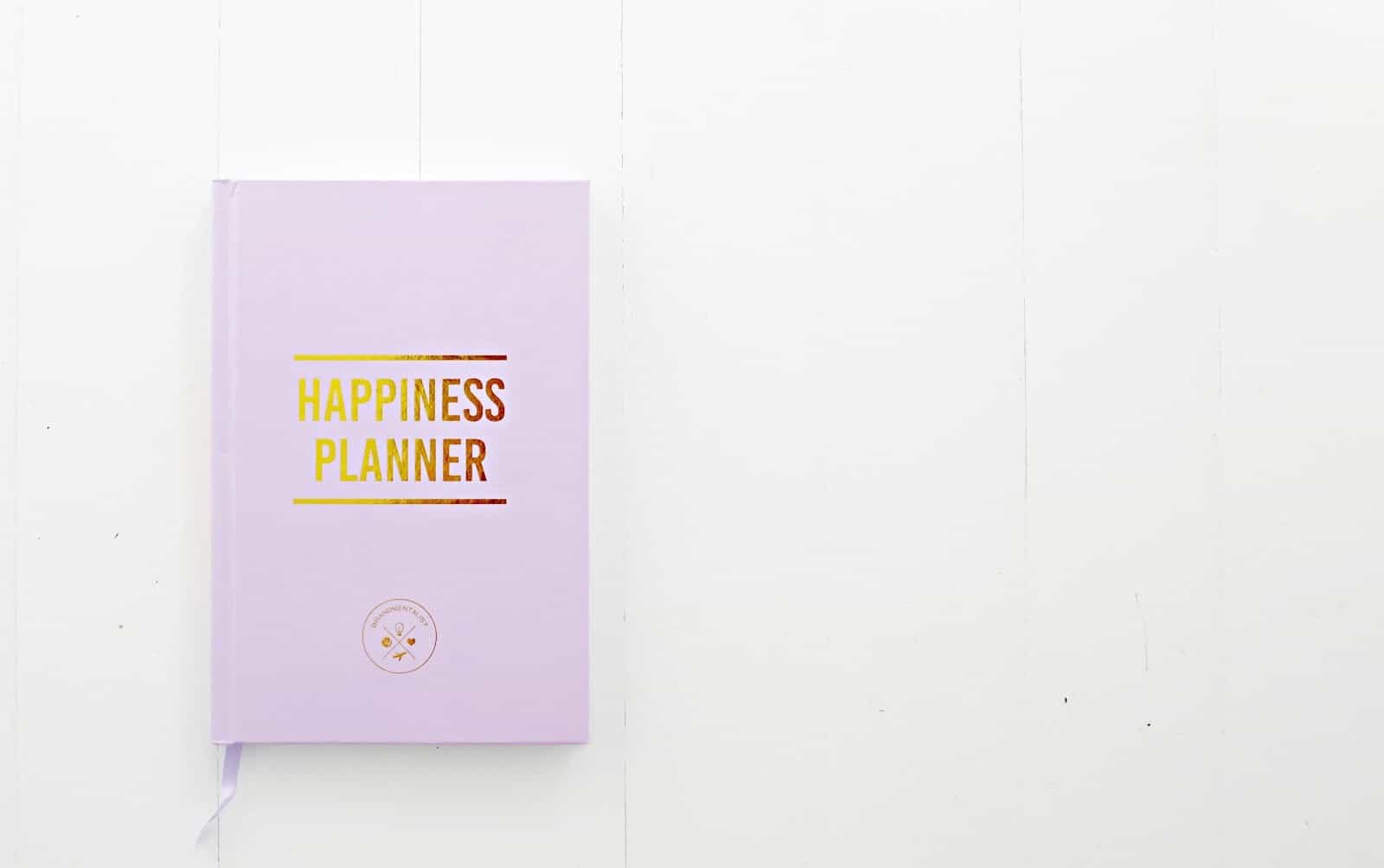 Ultimately, I didn't pick this planner for myself because it's a bit small.  But the concept and the brand are a win in my book. If I'm being honest, there's no way I would fill out the daily gratitude prompts. Weekly reflective prompts are about all this mama ceo has time for so it is a win that they leave lots of room for weekly reflections.  In addition, I love the happiness roadmap at the start of the planner that guides you through a game plan to get your happy on.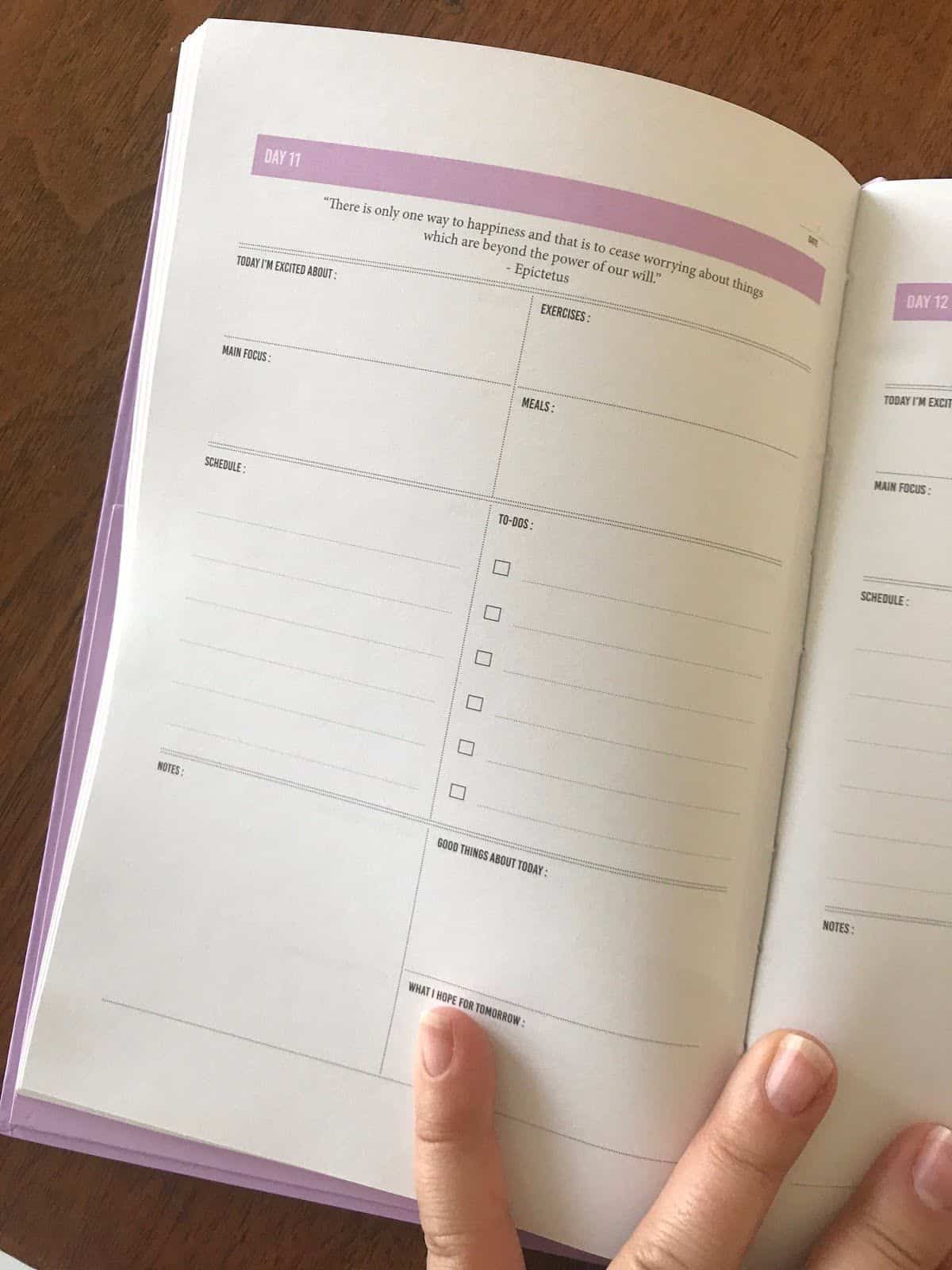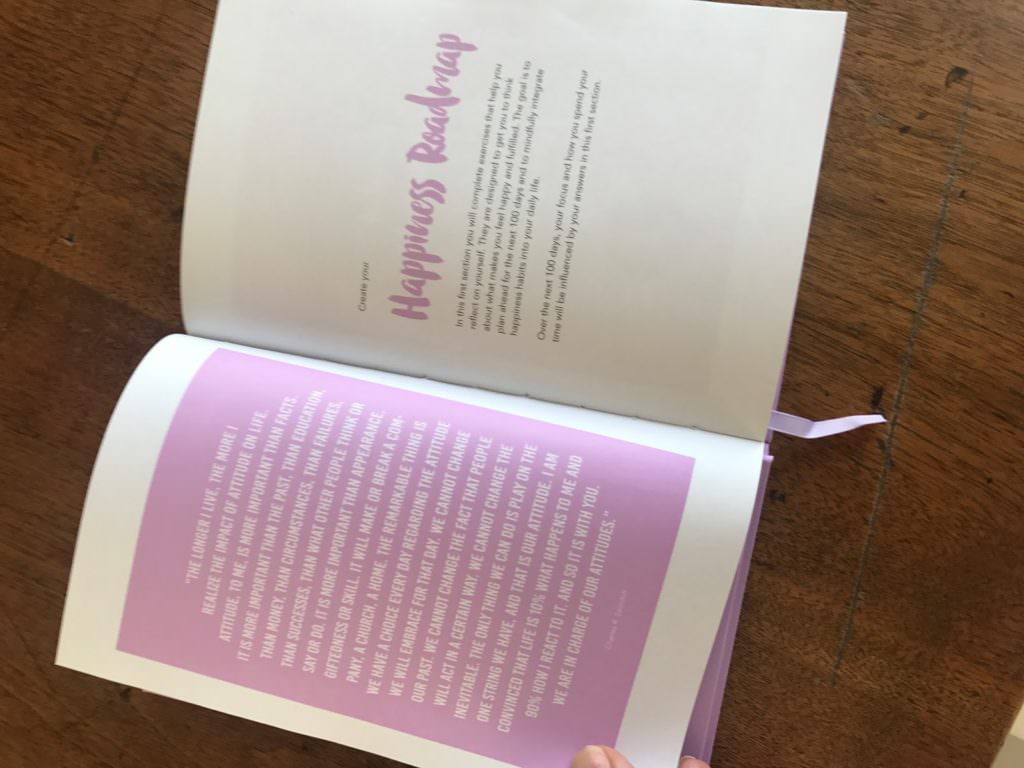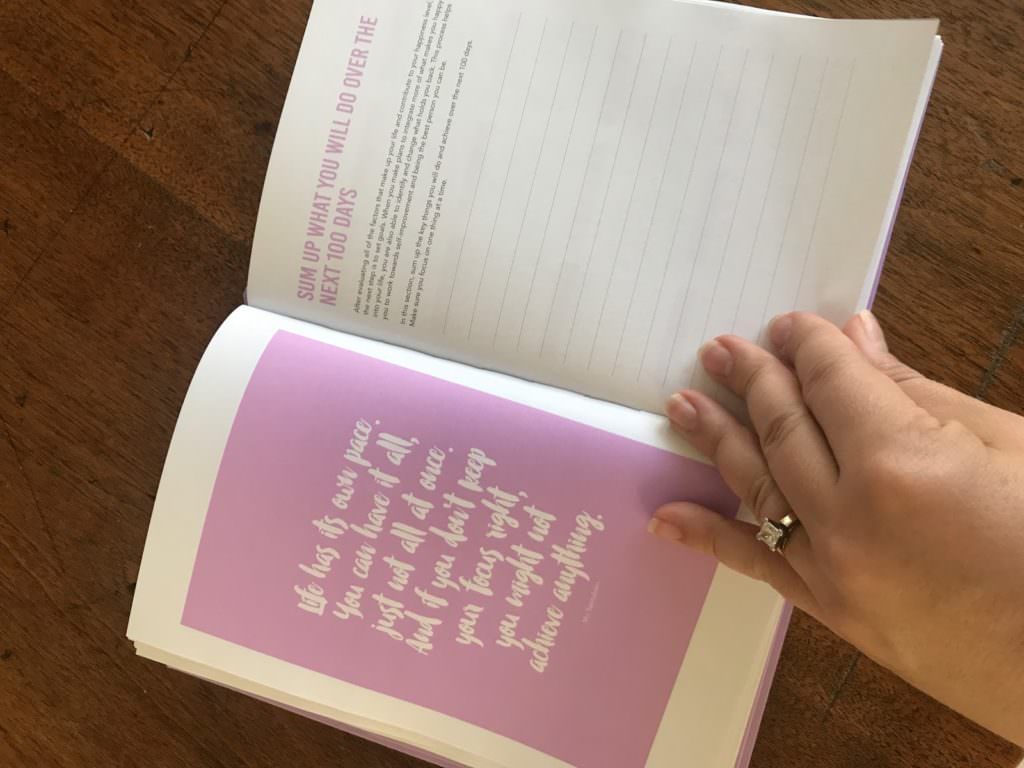 They also have a happiness planner app that is equal parts lovely and thoughtful: https://app.thehappinessplanner.com/
4.   THE FRESH START WORKBOOK  by AMBER MCCUE
The best planner to set yourself up for success all year long.
The planners listed above focus on your daily planning efforts.  In 2013 we also designed a planning workbook and guide to help you get your plan on for the year ahead.
The Fresh Start workbook and digital planning guide is designed to complement and accompany your daily planner.
When you purchase you get immediate access and can start creating your business plans for the year ahead… You'll know exactly what to put in your daily plans when you have your overarching goals, visions, and strategies mapped out.
Yes, get yourself a daily planner!
But start here with your overarching plans now: freshstartworkbook.com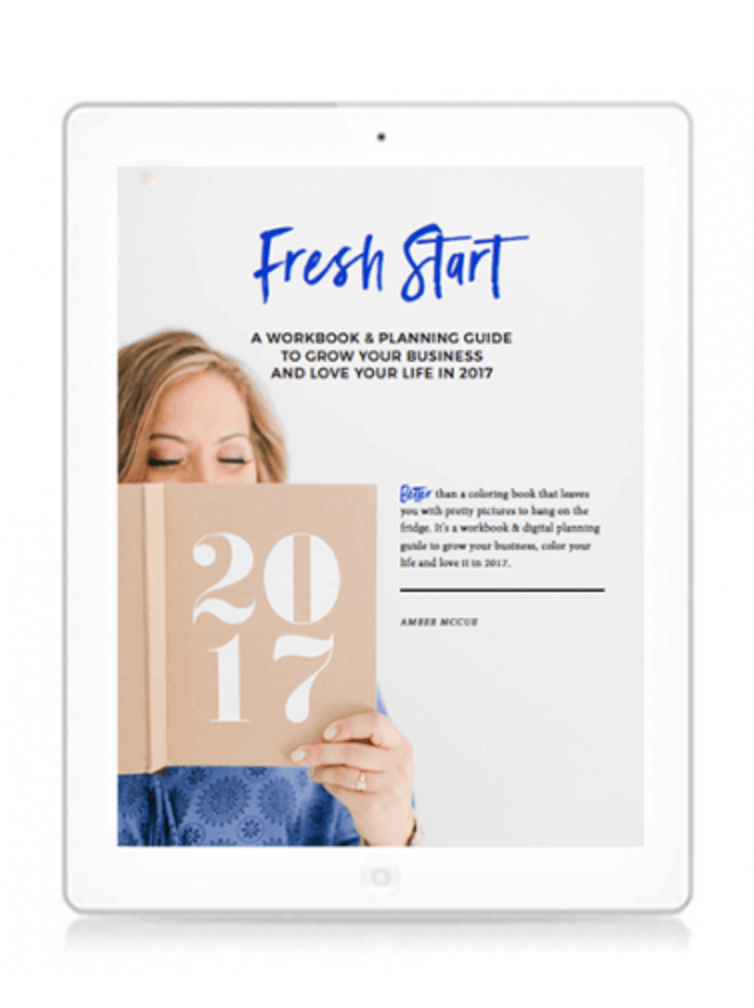 Here's what people are saying about the Fresh Start workbook. 
5. THE PASSION PLANNER by THEPASSIONPLANNER.COM
The best planner to see your schedule front and center.
I first learned of this cute little passion planner when it launched via a Kickstarter a few years ago.  The Passion Planner by far has the best cover material.  It's a great cloth like rubbery material that won't wear down easily.  It feels like the most durable cover of all the planners.  A+ on cover material!
Instead of weekly prompts, like the daily greatness business planner has, this has monthly reflection prompts.  In addition, there is an annual and mid year planning guide in this planner – I like that! The actual, daily planning pages are structured in a weekly format in the version I have and the pages and spaces to map out the day are just a little too small for my big handwriting.
There is also a small space each week for taking notes – the Space of Infinite Possibility and a space to write down weekly to dos.
A winner if you want a new year, mid year, and monthly prompts and are okay with small spaces to map out your daily schedule.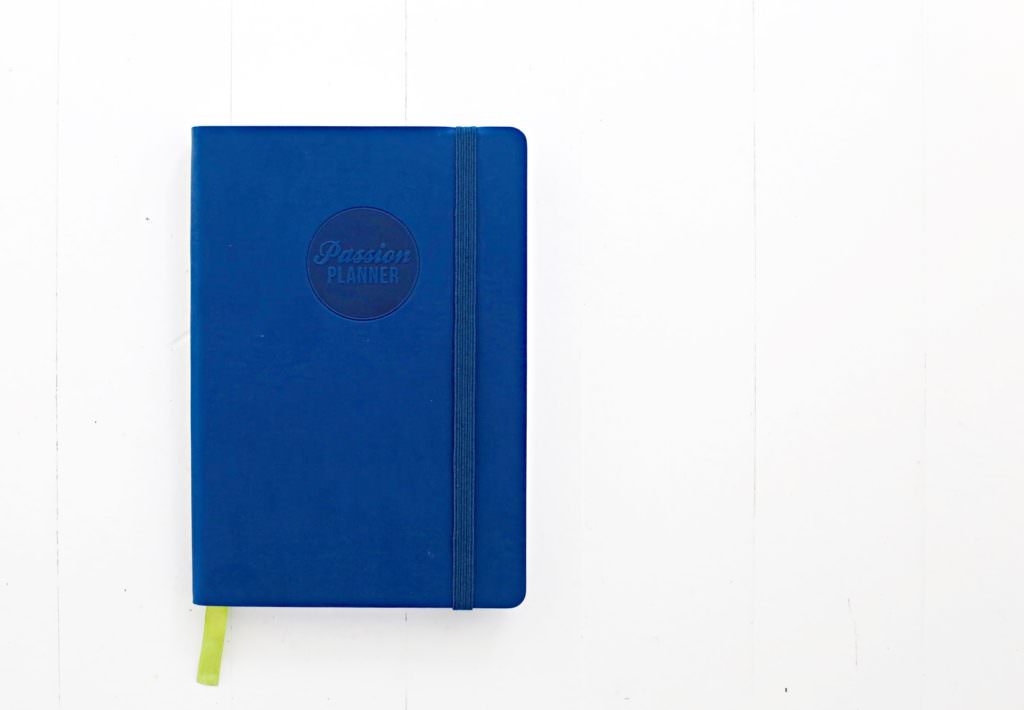 Ultimately I see this planner as more of a calendar tracking tool rather than a tool to track your daily to-do or task list. Unless you write small and have super short to-do lists. 😉
Heads up – I did order the compact size of this planner, not the the classic.  The classic is larger and may offer more space for your scheduling needs.
6. THE PRODUCTIVITY PLANNER by INTELLIGENT CHANGE
The best planner for focused productivity day by day.
If you need help getting focused, buckling down, and getting the most important things every week and every day, this might just be the perfect planner for you.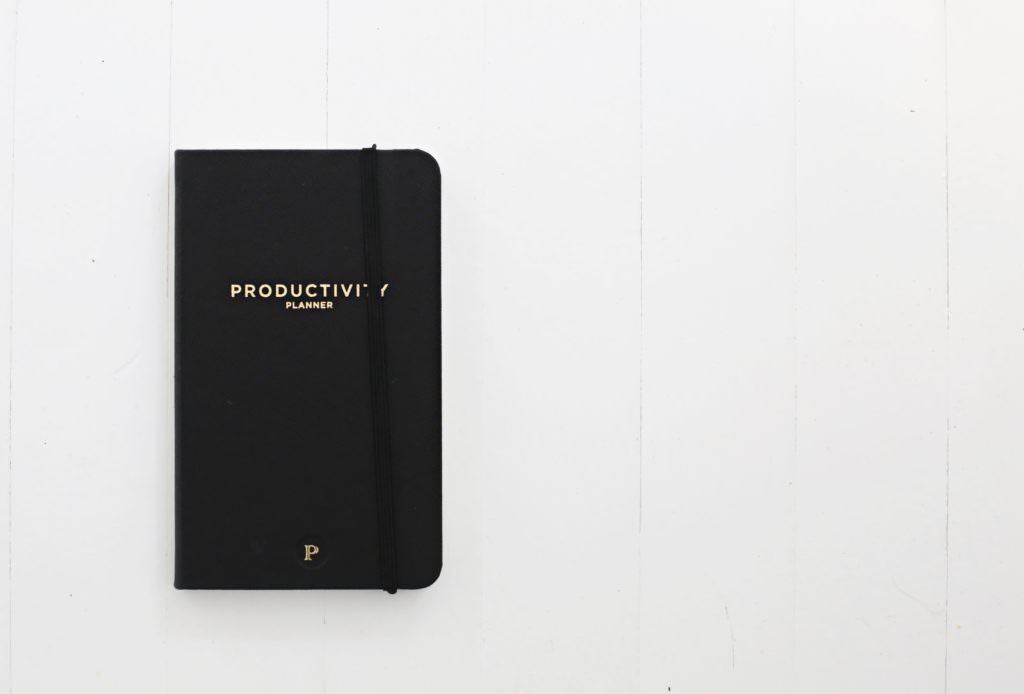 It's a simple model with just a small space to get distracted in notes – Everyday you'll be prompted to identify the most important thing you need to accomplish that day.  Leveraging the getting things done and the Pomodoro methodology, this planner gamifies the daily to do list by asking you target how long you think it will take you to get something done, compared to your actual.  At the end of each day you are asked to score your productivity and reflect.
If you want something simple and have focused to-do lists (or desperately need focus) check this one out!
7.   THE DAY DESIGNER by WHITNEY ENGLISH from TARGET
The best planner for all things life.
Full disclosure: I know Whitney English personally and I think she is a pure joy!!
I've owned the hard cover of Whitney English's day designer before and it was too bulky for me.  Great design, great branding, and great insides though!
When I uncovered a slimmer, soft cover version of the planner though her new design for Target, boy was I excited!
It does not disappoint.  In this lovely planner you have space to map out your schedule, track you top three, your full to-do list, and capture evening plans and daily bits of gratitude.
While this cover is actually a durable plastic (vs the prior, more sturdy version I had before), I actually like this cover better.  I beat up my book covers so plastic is safer for me!
8.   THE LIFE PLANNER  by ERIN CONDREN
The best planner if you want something bold and colorful.
I've had my eye on an Erin Condren planner for years so I was excited to scoop up a planner to review for you. 😉
Erin Condren offers a whole lot of personalization options and different styles.  When ordering, it feels like the options are limitless.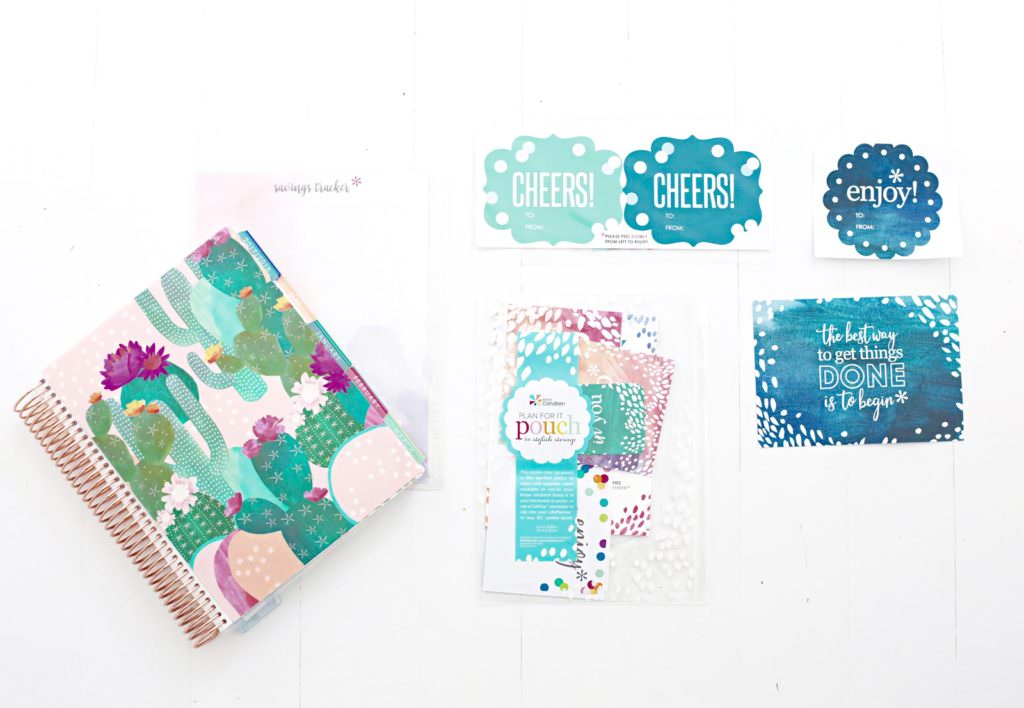 The plastic cover on the version I selected was super sturdy.  The inserts I scored are fun to play around with – like the monthly bill tracker.  I'm all about productive ways to track money.  But ultimately the insides felt too basic and elementary for me, right now.
Totally a style vote here. Because in terms of quality and client experience, Erin's got it going on!!
9.  NO BAD DAYS PLANNER  by BANDO.COM
The best planner for the youthful, avocado toast loving, sticker fan.
Okay, I admit it. I couldn't resist the cover of this planner.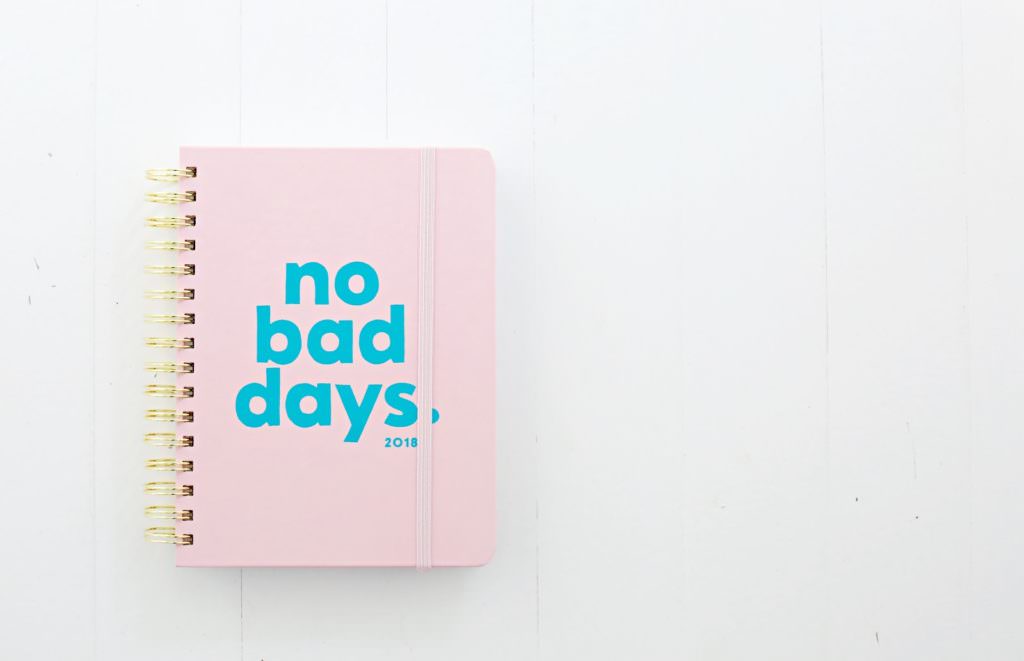 It's a cute, cute planner with all sorts of fun surprises inside. Motivational messages, stickers, and bright colors – And let's face it, bando does a great job in that department.
Again, like with the passion planner, I got the smaller size of this one.  While I think it would be great to carry around, there is no way I'd have enough room for all my notes and planning.
The pages are a bit thin, but not unbearable.  My daughter ended up scooping up this planner for herself.