Maternity leave is AMAZING! I have been enjoying nothing but snuggles and goofy faces while spending time with my family. I am a mother to three beautiful girls, (who run the world? -thats right Beyonce!) and I am also a CEO. What does it take to become a CEO? Next up, guest posting at NiceOps, is one of my lovely clients, Maggie Patterson who describes her journey into becoming a CEO and what it takes!

Last June I was in a time of major transition in my business. After 8 long years, I knew I needed a change. I was parting ways with my "anchor" corporate client and saw it as an opportunity to change my business dramatically.
But old habits die hard, especially when you are a freelancer who's making a very good living working with corporate clients. I knew I wanted to jump into having a more dynamic (and exciting) version of my business but I was stuck in the "how".
How do I jump from corporate to online?
How do I make sure my income doesn't take a total dive?
How on earth can I do all my marketing for this business AND run it?
Hello, Amber McCue!
There I was a relative newbie stuck between warm embrace of corporate cushy contracts with my little voice yelling louder and louder to get going on something new…and there was Amber McCue. I found her in a Facebook group with some rockin' photography on how to clone yourself, and I thought "yes please, I need to be cloned!"
If I'd only known what I was signing up for. In just under one year, I've made a radical transformation in my business spurred on by Amber's Clone Camp and Freshly Implemented programs.
The biggest change of all is that I finally realized that I wasn't a freelancer, that I was the big cheese, the CEO of this business, and it was up to me to make more out of it.  It was time to put up or shut up, and go all in on seeing what I could actually accomplish.
Here's my three big lessons from the past year:
1. Cloning Yourself is Easier Than You Think.
As a freelancer, I'd worked with subcontractors, but nothing designed to help me actually get more done in my business. I decided to dip my toe in the water by hiring a VA in July 2013. I hired her even knowing the next few months would be uncertain as I wound down corporate work, because I knew I needed help no matter what.
Using Amber's systems and approaches, I've gone from being a team of one to having a growing team with a VA, project manager, writer/editor and more.  I've never been more organized on on track in my business ever. (I just need a clone for my laundry at home!)
Start small with cloning and see how you could get even a couple things off your list every week. It's surprisingly affordable and addictive.
2. The Power of a Plan.
9 years ago when I quit my job with no real plan on how I was going to replace my salary, I promptly wrote a plan. That plan lasted about 3 months until I blew by all my revenue goals and things were going great.
Here comes my confession. Until June 2013, I'd not written another single plan about my direction or goals. That's 8 years of no goal setting. I had been lulled into a false sense of security about my business.
With Amber's guidance, I was whipped into shape creating 90-day plans and updating them every single month. No part of my business was left untouched and it made for rapid, lasting change. Uncertainty was replaced with the confidence to make some hard decisions and really take things up a notch.
Everyone at every stage in their business needs a plan that they are regularly working on. No excuses. Not having a plan is a recipe for mediocrity and allowing yourself to be stagnant, which I'm pretty sure is not what you want out of your business or life.
3. Change is Hard. Community Makes It Easier.
Coming out of Clone Camp, I had a glimpse into how much work changing my business was going to be and quite frankly, I was scared out of my mind. I spent the Fall transitioning my business, building up my brand and hustling like crazy so I'd be ready for the beginning of 2014 when I'd be wrapped up with corporate clients.
I'm not sure that I would have gotten through the Fall it and been able to start 2014 strong out of the gate without the support I received through communities, especially Freshly Implemented. Small ideas from the group sparked bigger changes that had a massive impact on my direction.
Find a community or two (or three) right this second if you aren't connected into any yet. You'll find your business besties, the people who have no interest in coddling you and will give it to you straight – #priceless, especially as a solopreneur.
Stepping up and admitting you are in this business to be the CEO is intimidating, but so worth it. My journey to putting on my CEO shoes (which in my case are metallic silver flats) has been full of twists, turns and lessons which I wouldn't change for the world.
A year later, my monthly income is greater than it was a year ago with lots of potential for growth, I'm more fulfilled in my work because I can see a measurable impact for my clients, and I've got close relationships with some amazing people I'd not met otherwise. Instead of being scared, I now wonder why I didn't do any of this sooner.
What do you have to lose by putting on a better pair of shoes? What's holding you back from seeing yourself as the CEO? Comment below.
About Maggie Patterson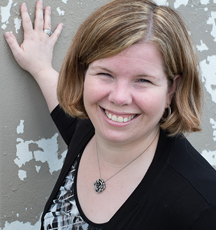 Maggie Patterson is a Content + Communications Strategist who works with entrepreneurs to help them ditch the marketing shoulds. She is the host of the Marketing Moxie podcast and her work has been published on leading marketing and business websites. You can get her free resources on guest posting and content strategy here.