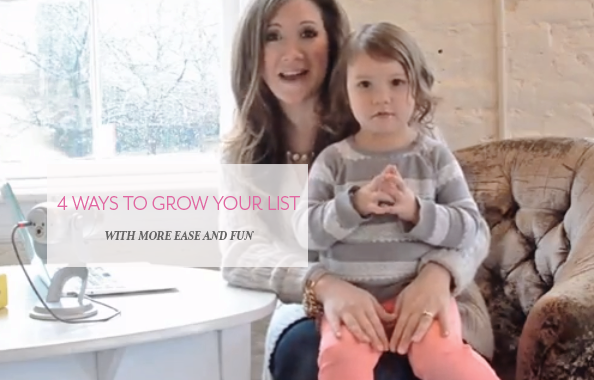 We are getting in on the #tbt action with a video that we filmed back in January when I was still preggo!!
As you can see in the video, my three year old got in on the action as well…This topic is just so stinking good she couldn't resist. 😉
No, seriously.. She's just a ham. Evidence of that can be found in her solo "My Show" video. Click for a chuckle and if you are procrastinating doing something else. 😉
Back to the topic of today's video… List building!!
In this video I mistakenly say the money is in the list. I should have said there is money in the list. The word "the" makes it sound like the end all be all.
There are lots of ways to make money in your business while having a small list. I did it for months. Until I figured out how to grow my list with a whole lot more fun and a lot more ease!!
If you prefer to read instead of watch, keep on scrolling. I've got you covered!! 
Either way, be sure to let us know your list building tips in the comments because you are a Smart CEO on the rise and we want to hear from you!
1. Reel in your goal.
Every year I hear online business owners tell me "by the end of the year, I'm going to have 10,000 subscribers" or whatever number of subscribers they want.
I'm so excited for you to have big, big goals. The problem is that when you make a ginormous goal like 10,000 subscribers over a ridiculously long time frame like one whole year you wind up having no idea what you should be doing today in order to get where you want to be.
If you've been following NiceOps for a while, you know that I'm a big advocate for the 90 day plan.
Yes!! Just 90 days at a time.
90 day planning solves the problem of making too big of goals over too much time because 90 days is a much more manageable timeframe.
Once you have a 90 day plan, you can break it down into a 60 day goal, 30-day goal, and then even into a 10-day and two-day goal!
2. Host an event!
My biggest strategy (and most fun) for building the NiceOps list has been hosting online events on Facebook.
I figure that everyone's hanging out on Facebook anyway. Why not make it a productive party?
When you do an online event, make sure to keep it structured.
When people come to your party, they're expecting to get free drinks and finger foods!
In business terms, the free drinks and finger foods come in the form of free content and tips.
And remember to keep reminding the people at your party of the benefits of signing up to your list so that they don't leave the party empty handed.
3. Launch a new…
Surprise!
Whenever you launch a new website, product, blog, whatever make sure to promote it!
Use this opportunity to create buzz around your business and brand.
You arouse people's curiosity when you tell them you have something exciting in store.
When they know to expect something new from you, they'll keep their eye out for it and will be more likely to jump on your email list in order to get more details!
You can create a new free eBook that solves a specific problem, for example and then share it with groups of people online who would be interested in that solution.
4. Be vulnerable and engage people in a very real way.
Ok, so this is where 99% of online business owners get scared.
But I have to tell you, blog posts written from an honest + vulnerable place are more likely to go viral.
Why is that?
Because people crave real.
When you're real with people, you connect with a deeper part of them. You create a bond and begin to build a relationship with them.
They're more likely to trust you if they can see who you really are.
Alright, that was a lot of information. How about we go over the four NiceOps list building tips:
#1 Reel in your goal. Make a 90-day list-building goal instead of a year-
long goal.
#2 Host an event on Facebook.
#3 Launch a new surprise!
#4 Get naked…with your vulnerability, that is!
Alright, gorgeous. Did you enjoy this post as much as I did? If so, please do share it with your friends on Facebook and Twitter using the buttons below.
Tell me now!!
What list building tip are you going to get in action on?
Got anything to add to the list?
Can't wait to hear from you!