Remember the saying "nice guys finish last"? Nothing could be further from the truth. Nice business owners finish first. Because being nice is not what you think.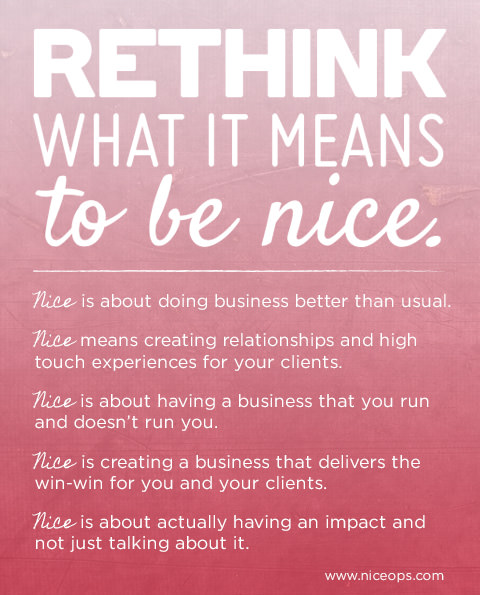 Being nice doesn't mean you are naive. It's a way to do business without being a jerk.
If you've ever worked with a jerk, you know exactly what I mean. Loud, abrasive, pushy….the list goes on, and working with that person is uncomfortable. It's downright unpleasant.
No matter how good they are at what they do, the experience is miserable. So you go out of your way to avoid working with them again.
As a business owner, can you afford to have people trying NOT to work with you?
Being a jerk is bad for business.
Before we go any further. We need to rethink what it means to be nice.
:: Nice is about doing business better than usual.

:: Nice means creating relationships and high touch experiences for your clients.

:: Nice is about having a business that you run and doesn't run you.

:: Nice is creating a business that delivers the win-win for you and your clients.

:: Nice is about actually having an impact and not just talking about it.
There's a reason corporations have things like the No Asshole Rule and spend millions on employee engagement. Because happy employees are more productive and the company is in turn more profitable.
90% of people are more productive when they are surrounded by positive people.
When you look at it that way being nice doesn't seem so vanilla now does it? Nice makes doing business for you much easier – as your clients, team and partners are all happier working with you. And they are in turn more productive.
A study by the Wharton School of Business found that companies like Whole Foods, Southwest, and Costco that receive raves reviews by their clients, employees, and suppliers perform 630% better than the S&P 500.
Do you want to be Whole Foods? Or some company people have never heard of? Nice is how to get there, nice is what will sustain your business in the long run. Being a jerk may work for now, but it is not a strategy for lasting success.
It's up to you how you add nice to your business, but nice guys finish first.
How can you be nicer? What does nice mean to you? Share in the comments below.