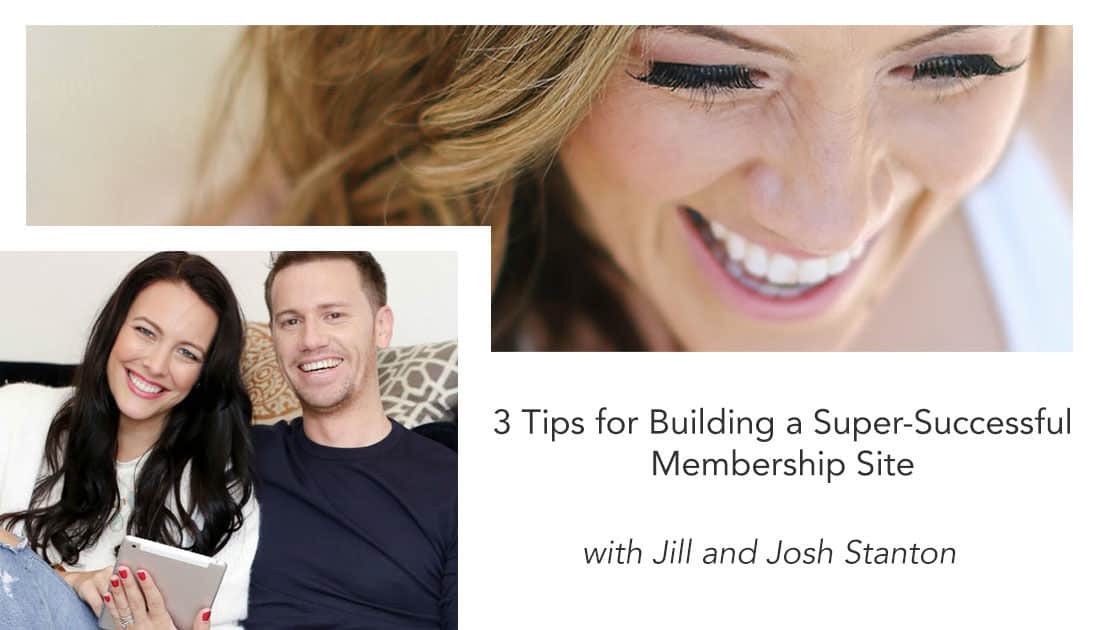 If you run your own business (and I'm pretty sure you do, if you're reading this blog!), then you know that increasing revenue is pretty high on your list of Things to Do.
You also know that the best way to keep that money coming in isn't one-off sales – it's recurring sales.
Recurring sales are the fuel that keeps our engines purring, right? They provide that steady, consistent income that we all crave. Today, I want to talk about one method of securing that steady source of revenue.
I want to talk creating successful memberships.
A successful membership program can offer amazing benefits to your business in the form of consistent revenue – but you need to be able to offer benefits to your members in the form of amazing community and content!
Jill and Josh Stanton are the creators of the super-successful membership program Screw-U (Screw the Nine to Five), a business-building membership community that helps business owners deal with the steep learning curve of entrepreneurship. If anyone has amazing advice on building a mega-charged membership program, it's them!
Maybe you already have a membership program. Maybe you don't. Maybe you're considering putting one in place in the future. No matter where you stand right now, I'm sure you'll find something valuable in their advice – I know I did!
According to Jill and Josh, there are three main things you need to focus on when building a membership site:
1. Audience. Why are people attracted to membership sites? Because they offer a community. Access to the community is what keeps people paying each month. If you're looking to start a membership site and don't currently have an audience to initially kick off that community, then you're not likely to have a lot of success right after you launch. You just won't have that spark to kick things off with a bang. So, step one is to first obtain an audience through your business. Jill and Josh recommend having at least 10 thousand unique site visits per month and an email list of at least 3 thousand subscribers, as well as a healthy social media following. After all, if you don't have an audience that listening to you, who will you sell your membership site to?
Jill and Josh focused on growing a free Facebook group before launching their membership site, posting regular content and interacting with members in order to build a real sense of community. Jill and Josh also recommend making appearances in other Facebook groups, doing interviews, and writing guest posts for relevant blogs in order to get some attention.
2. Framework. Most membership site owners also offer content. One mistake that Jill and Josh made when they first launched Screw U was not providing their members with a clear framework for the content they were offering. When they realized their error, they built up a framework called Momentum Marketing which gave subscribers a clear path through their training content. Their members use that framework to identify where they are in their entrepreneurial journey – that helps them to zero in on the content most relevant to them and guides them along the path to achieving their goals! Take some time to figure out the core, foundational pieces of your program and create a framework that will help you meet your members where they are and methodically guide them to where they want to be.
3. Marketing Plan. Step 3 is deeply connected to Step 2. You need to be really clear with yourself on where your strengths in content and marketing lie and be consistent in your offerings. One of the challenges Jill and Josh faced when trying to build their membership program was that they were selling the program on a series of webinars, but their webinars weren't adhering to a framework that made sense for the program – their webinar topics ranged from sales funnels to advertising to Facebook groups. Once they figured out their framework in Step 2, they developed a webinar that allowed them to sell their program on a consistent basis – in a way that actually made sense!
What can you put in place on a weekly basis that plays on your strengths and ties into your membership program? Jill and Josh will be spending 2017 doing weekly Facebook Live shows, interviews, and the occasional guest post. Figure out what you can do consistently on a weekly basis to build up your audience – and make sure that it's an audience interested in what your membership site offers!
These tips don't just work for membership sites – they are fantastic tips for marketing in general! How will you adapt these tips to build your audience? Let me know in the comments!